10/28/19 – There has been a lot of focus shifted to the SD40-2 project since the requests for the next installment have started going out. Several have asked if there was any chance of splitting the project into two projects because it would afford them the opportunity to reserve more models of the different types offered that just would not be manageable on a single project. Many reservation holders have already been contacted to check the viability of this prospect. There does seem to be interest in the idea of splitting the project to allow people to be able to reserve more models from the types listed because this would extend the time needed to be able to send payments and reduce the amount needed at each juncture due to reserving fewer models. If the prospect of two projects running subsequently would make this more feasible for those of you wanting to purchase more models from this offering, and if you have not already expressed your thoughts on this idea, please make contact immediately and advise us of your interest in this possibility.
Many have also asked how, exactly, the project would be divided. The answer is that the SD38-2 and SD40-2 would be run together because of the similar component sizes and configuration. The SD38 and SD40 (and SD40 variants) would also be together for the same reason. The SD39 and SD35 would be placed among the above groups according to whatever would facilitate customer's reservations best. When emailing with interest for dividing into two projects, please list types and quantities so that a semi-accurate sampling can be assessed.
9/23/19 – A quick 'thanks' to those who showed up at the convention in Indianapolis this past weekend and to Dan and Amy for continuing to provide us with a venue for this event every September.
There is a lot to convey here, so I will try to keep this short – but it may not be that easy.
Please check out the Future Projects page and see the new Rolling Stock section. Please email with suggestions or to 'vote' for any project of interest.
Unlike some of our contemporaries, the new arrangement in Korea is continuing to allow us to keep the promises that we have made. MMW made a commitment a few months ago to provide the Bethgon coal car samples at the Indianapolis meet. Despite the delays in receiving the data for the project, and as everyone in attendance at the Indy convention witnessed, MMW was able to provide exquisite samples just 7 1/2 weeks after delivering the drawings and data to our facility in Korea, thus proving that it does not require years, nor even months, to get a rolling stock project to the sample stage. This is yet the second time our staff in Korea has been put to the test and the second time they have passed with flying colors, as those who have seen these samples can attest. The first being getting the SD40-2 samples (which have innovations never seen before in O Scale) to the March Meet in Chicago for display which took only 6 months – not 6 years. MMW appeared at the convention with exactly what was promised each time and this will be our business practice moving forward. This should also demonstrate to all reservation holders the commitment we have made to the hobby and hobbyists and the amount of control that we have over our projects as opposed to others who make empty promises with no hope of achieving them. 
Many people have asked how this will translate to production. My manager in Korea assures me that this trend will also continue where production is concerned. I will try to have him come to the states one year so that some of you who attend the conventions can speak with him – and he does speak English, which facilitates things immensely.
I have a lot of catching up do after being away for the convention and having some equipment repairs over the last 9-10 weeks. I also now have many emails to answer about MMW projects from folks who did not get the opportunity to speak with me at the convention about the projects, but due to the extensive emails received about them already, I am posting photos of the Bethgon cars immediately. SD45 production will also begin to be featured regularly. Over the past several weeks, I have been receiving photos from my staff not only of the coal cars that were being built, but also production SD45 body etchings and pressings as well as castings and other components. There is a certain excitement one gets at seeing the project production units finally coming to fruition that all reservation holders will soon share. Over the next several weeks, a schedule for the arrival of the SD45s will be posted as well as updates regarding all projects.
The lighting isn't the greatest in some of these photos, but time and the size of the space needed for 5 cars was not conducive to great pictures. Click on photos to enlarge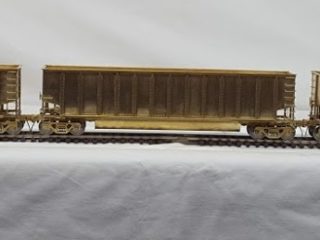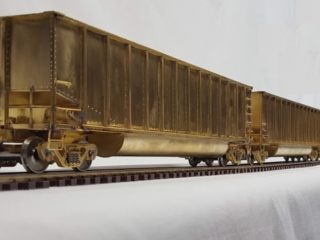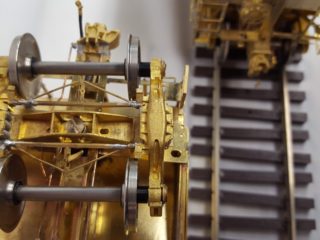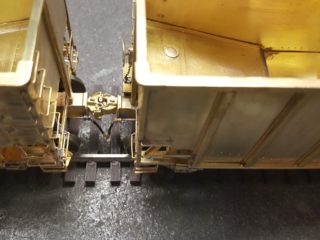 In the last photo, the difference between the rotary coupler and the fixed coupler can easily be seen.
Emails requesting the balance of the first deposit on the SD40-2 project will be going out to all who have reserved with their initial $300 confirmation deposit. Some of you have already brought those balances current, but will receive a statement nonetheless. 
8/26/19 – Per the last update, it should also have been mentioned that the convention in Indianapolis is now a Saturday-Sunday meet. This should make it much easier and more practical for people to attend, whereas it was previously a Friday-Saturday meet making it difficult to get there before vendors started wrapping up.
8/21/19 – With the Midwest Show coming up in Indianapolis, I would like to mention that we are currently on schedule to have our Bethgon High Wall Coal Gondola samples making their debut appearance there. I am hopeful that many people will attend, not only to see our newest samples, but also to chat about the production of the SD45 project as well as help make this convention what it once was. The waning attendance at these shows will eventually spell their demise. There would never have been a MMW without the exposure I received years ago with the drive system and other lesser products at these conventions before deciding to try importing. I have made many friends and acquaintances at these shows that have allowed me to get to the point where importing fine scale diesels and rolling stock and even perhaps steam engines in the future has been made possible.
With that said, and if you are an O Scaler, please make time to attend these shows. It gives myself and others like me a venue to become acquainted with the O Scale community as well as an opportunity for O Scalers to become familiar with me and view MMW products in person. Without these shows, the future importers and vendors might never have a chance to become adequately discovered. This will eventually irrevocably hurt our hobby. So support those of us who are desperately trying to keep our 2 rail hobby alive and healthy and come out to the conventions and chat with us. There is more good that can come from attending than bad. Hope to see you there.
7/23/19 – After finally getting the data organized for the coal car, the reservation process will now commence. Those who have already expressed interest will be contacted to confirm their interest with reservations. All information regarding reservations will appear on the reservations page of this site. Barring any major issues, we are still planning to debut the pilot samples for the coal gondolas at the Indianapolis meet in September. Anyone interested in these cars should contact us quickly, as production of these will begin as soon as possible. The minimum requisite number for production has already been reached, so there will be no delays in moving forward. Please see the Bethgon High-Wall Gondola page for more information on this car.
6/14/19 – Due to the interest coming in with regard to the coal gondolas mentioned in the last update, more photos have been posted for the major road names that owned them. Please let us know if you have interest in these cars. This project will be starting quickly and pilot models are currently expected to debut at the Indianapolis meet this September. They will be placed into production very quickly thereafter due to the fact that we already have the necessary interest to move forward and could see delivery in approximately 9 months. The reservation process will likely begin within a few weeks.
There has also been an increase in the requests for steam engines. As MMW has promised from the beginning, interest of the O Scale populace will decide the models to be produced. Your 'votes' will determine the course of production moving forward. The 'Future Projects' page may begin reflecting this very soon as the requests continue to come in. If you have interest in MMW producing steam models, please email and let your interest be known.
5/31/19 – Since the March Meet there has been a major overhaul of the drawings for the SD45 project due to the changing over from the first builder to our own facility. Production will continue with the changes and corrections to the drawings. Scheduling for the delivery of this project will be posted soon, but we are now less than a year from seeing our first project come to fruition. Further projects are expected to follow at a much more palatable 18-24 months between locomotive projects. It is our belief and the belief of nearly all of our customers, that taking longer to get projects to market is doing damage to the 2 rail, high end part of the hobby. It creates doubt and is causal in O Scalers avoiding placing reservations early or even at all. This lack of initial support at the onset of a newly announced project prolongs a project even further. This will eventually lead to the demise of the high end brass model as the Korean side of the brass model making industry evolves. If the support for further projects is forthcoming, this time frame estimate could even possibly be shortened. To this point, the SD45 and SD40-2 projects have been sufficiently supported. It does appear that the DDA40X project will be sufficiently supported, as well as the coal gondola announced below. A special thanks to all of those supporting MMW. It is because of you that these projects are being made possible.
Another development which has come out of nowhere is the request for rolling stock. Specifically the Bethgon High-Wall Coal Gondola. The interest in this project has been more of a grass roots effort without the promotion and fanfare of a formal announcement. While the interest in the lumber car continues to grow, the coal gondola has not only reached the minimum quantity needed for production, but has far surpassed it. MMW passed out flyers promoting this project for the first time at the O Scale West convention last weekend. The response regarding this project has been quite surprising. A full set of drawings is on the way and the official reservation process will begin as soon as the details are finalized with my staff in Korea. This project will likely be produced along side the SD45 project. Please see the rolling stock page for project details.
3/19/19 – First things first, thanks to the organizers of the March Meet convention for another show well done. Both vendors and attendees alike seemed to really be enjoying themselves judging by the smiles and laughter seen and heard throughout the hall on Saturday and Sunday.
I would also like to extend my appreciation of my reservation holders and supporters for stopping by so that I could tell them all what the latest news regarding MMW and discuss the status of projects both current and future.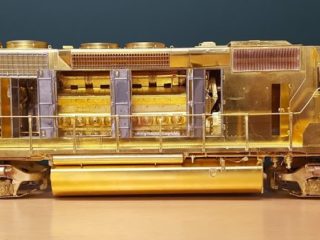 The fact of the matter is that due to delays and a lot disingenuous promises, I terminated relations with my former builder while in Korea last June. I had also set up meetings with others before the trip so that I might move somewhat seamlessly to another situation that might make my efforts less stressful and more productive. The end result is that I have opened my own facility in Korea and have hired my own staff as employees instead of having a builder. This means that the ONLY projects that will be worked on will be MMW projects and that delays caused by other importers are no longer a factor. My manager, Mr. Hur, was hired to be in charge of my affairs in Korea. He interviewed designers over the summer and as of Sept 1st, we now have on staff our own designer – and one of the most experienced in Korea. Since production of the SD45 would take a bit longer, it was decided to produce the pilot samples for the SD40-2 project first. This was done for several reasons, but most importantly, to find out if a schedule could be kept with precision, efficiency and quality and secondly, to have brass to show to people who might express concern for changing builders mid-project. I was given a production schedule for the SD40-2 samples in August (one standard and one premium model) that were promised to be complete by the 1st of March. As those at the March Meet were witness to, this promise was executed perfectly and the models were on display there. So the pilot samples went from scratch to debuting in almost exactly 6 months. Quite an accomplishment when compared to our previous situation.
With the new arrangement in Korea, projects will now be on schedule and will be produced between 12 to 24 months. This will, of course, be dependent upon support from the O Scale community to support the projects.
Here are some photos of the Premium Version that was displayed at the March Meet this past weekend. Once again, there are only going to be 50 of these Premium Versions produced and as of this past weekend there are only about 15 left unspoken for. Once the reservations received over the weekend are processed, the Premium SD40-2 page will be updated with the exact number. Click on photos to enlarge.
Lastly, due to this changing of the guard in korea, I am now able to offer a limited number of SD45s in the Premium Version. Anyone interested in adding this option to their reservation needs to contact me and make those arrangements as soon as possible. Many have already done so during the convention, but anyone interested that did not attend the meet should contact me quickly. The SD45s are in production and this option will only be available for another 3 to 4 weeks. 
1/2/19 – Happy New Year everyone!!
It has been some time since the last update and I am getting many emails asking for some news. Things are moving right along and progress will be documented and discussed very soon. However, at this time, I would simply like to take the time to speak briefly about our next project.
The SD40-2 drawings for the pilot samples are very near completion. My designer and I have been incredibly busy trying to get the details for the premium model accurate and it has been eating up a lot of my time, hence the lack of updates. By the time I leave the office, I am so weary of drawings and photos that I just haven't had it in me to stay longer and post anything. That being said, here are two internal 3D GOD drawing renderings that should seriously leave those of you who have reserved a premium model with a proverbial watering mouth. Parts drawings are nearly complete and actual parts already exist as well.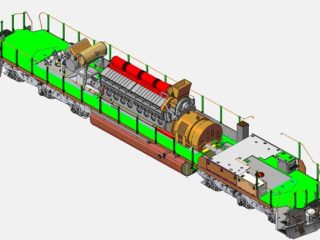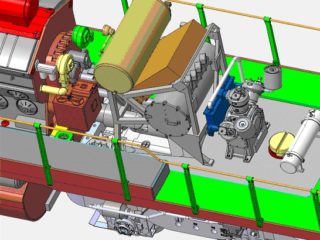 There is a lot more happening, but it will have to wait until future updates due to time constraints on my end as well as some factors that will be discussed at shows, where face-to-face correspondence is preferred. Rest assured, great progress is being made moving forward from this point. As always, email with questions and may 2019 be a great year for O Scale!!
9/25/18 – I just wanted to make a quick mention with regard to the Indianapolis O Scale meet this past weekend and thank Dan and Amy for their hard work putting that show together. MMW will continue to support the Indy meet in the hopes that it continues to grow and becomes what it once was. The participation of the hobbyist is required to keep these conventions alive and MMW is asking that all of you folks out there not attending these shows please make an effort to get to them, as they are the best way for the importers and dealers to more closely associate in the hopes of improving the hobby. Speaking for myself, input on multiple levels is acquired at many of these shows that just can not be discussed in emails. Interactive, face to face conversation is the best way to provide the modeling populace with the best models and the models they would like to see produced. Conventions allow for many other aspects of communication and demonstration not possible from any other forum or method, so please check the dates of upcoming shows and make an attempt to attend.
Thank you to those MMW customers that were in attendance. It was great to speak in person and share the progress MMW is now seeing in Korea. The 3D drawings of the SD40-2 project seemed to be a very welcome surprise to those who saw them. When time permits, I will post some of these drawings for those who were unable to attend the convention.
There is another trip to Korea in the schedule somewhere over the next 4-5 weeks, at which time there may be some new updates for the SD45 project as well. 
8/15/18 –  I have been trying to get to this update for about two weeks but keep getting sidetracked or just forgetting. MMW will be attending the Guildex meet near Telford, England coming at the beginning of September. Due to this, we will not be in attendance at the O Scale National. MMW will, however, be attending the O Scale convention in Indianapolis in mid September. It is my opinion that the Indy show will be growing over the next few years and will regain its former position as one of the larger shows in the U.S. thanks to the new organizers.
Lee Marsh, from Lee Marsh Model Company in Scotland, will also be attending the Indianapolis convention and will have a booth next to MMW's. He is doing some amazing things with regard to his Southern Pacific GS project, so please come out for the meet and see what Lee has to say about his project while supporting Dan and Amy with this convention. And by all means come around so that we can talk about our projects as well. Hope to see many of you in either one or both of these show locations.
7/6/18 –  After settling back in from a hectic schedule of O Scale conventions, holidays and a trip to Korea, I have a few photos to post to get everyone's blood pumping about the ongoing production of the SD45 models. I am not showing too much at this point, just a few shots that I think everyone will find interesting.
This first image is of step castings still attached to the sprue after casting. These are separated and 'dressed up' by the workers before moving to assembly.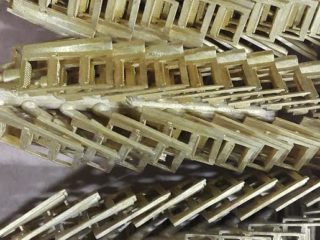 This next image shows some exhaust stack castings and other parts. Also still attached to the sprue in this photo.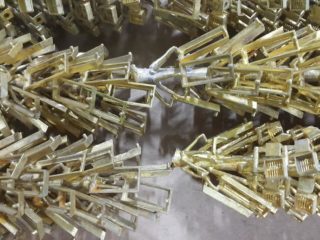 This image shows the radiator shutters for the SD45T-2 and SD40T-2 types after being fabricated. The small wires are connected to an actuator that will make them open and close when the locomotive is in operation.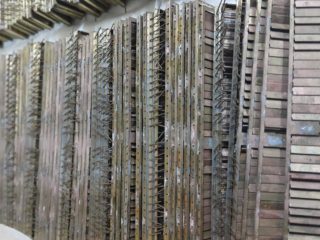 How about fabricated dynamic brake grilles instead of the very unrealistic castings we have seen on all EMD models in the past? Each component is a separate piece and soldered in a fixture for even and correct spacing. The worker that fabricated these said that each one takes roughly an hour to complete.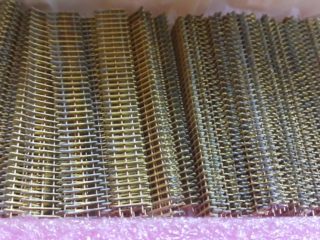 As time permits, I will also post some better photos of the painted samples. I will need to set up a place to get the best pictures I can, so please be patient.
5/9/18 –  Just a quick update for a few items that require mentioning. Several people have asked about our upcoming show schedule. MMW will be attending the O Scale West show in Santa Clara, CA toward the end of this month. We will have the painted pre-production samples there, but no production models yet. I would also like to take this time to mention that Lee Marsh of Lee Marsh Model Company will be in attendance at the O Scale West show as well. He is bringing in high end Southern Pacific GS3s, GS4s and GS5s in multiple versions. If you have interest, please come out to the show and hear what he has to say.
The subject of steam engines brings me to my next topic of discussion. For some inexplicable reason, there has recently been several emails asking about the possibility of MMW doing steam engines in the future, so I felt that I should take some time to address this in an update for those who may have the same question, but have not written to inquire. Many are requesting an MMW steam engine because they would like to see high end steam produced with the MMW drive, not to put too fine a point on it. The only answer that I can offer at present is that from the beginning, I have always maintained that the customers who contact me will be the deciding factor in what MMW produces. If enough encouraging emails come in requesting MMW to produce a steam engine, then we will, of course, follow suit and do as our clientele wishes. Please understand that we are still working on getting the first model produced and that the SD45 production and the subsequent SD40-2 pilot models are the primary focus at present. If you do have interest in seeing MMW produce steam, it is necessary to hear from everyone wishing to see this happen. Only then will the matter be taken seriously enough to consider as being a viable possibility. 
3/22/18 – We will gradually be trying to update the site with photos of the painted pre-production samples and other items of interest in the weeks to come. One interesting aspect regards future projects. After talking with people at the March Meet, the recent surge of interest for the premium DDA40X continues, as it has now surpassed everything else to occupy the top spot on the list of candidates for our next project. Currently, about 40% of the suggested production quantity has already received pre-reservation requests. These individuals will have first right of refusal when the project goes into development and confirmed reservations with deposit are required.  This isn't to say it will be next, but for the moment, it seems to be the project that is garnering the most attention. Anyone with interest in this project, or for that matter, any project from our "Future Projects" page, should let us know.
Several people at the meet asked when and if MMW has any plans to produce any four axle diesels. The simple answer is that there are already 3 projects of the four axle variety on the "Future Projects" page that have some serious backing and will almost certainly make it to production in the future. The GP7/GP9 project is the one looking the most positive with the GP38/GP40 project just a bit behind that. Then we have F units which are still gathering interest as well. These, when produced, will be by far and away the most accurately and correctly detailed GPs and Fs ever produced. They will also have our drive and prototypical truck design with the correctly scaled and modeled undercarriage and traction motors. So if this is what interests you, then by all means, please let us know.
3/19/18 – Having just wrapped up another March Meet, credit is again due to the organizers of the convention. As always, they provided a great venue, had a good draw and smoothly executed another fine meet. Credit to the Hill's for another job well done and a personal thank you from MMW for what you do to help support the hobby.
The pre-production samples will be photographed and posted at some point soon. As discussed at the convention, there are flaws on these models, but that's why we make pilot models and pre-production samples, so that the mistakes can be caught prior to the production of the models to be delivered. Regardless of the minor corrections to be made, they seemed to be well received and it was very nice of everyone who stopped by to express their support and appreciation for what we are soon bringing to market. 
3/3/18 – OK OK already. After yesterday's update, enough of you have emailed asking for pictures. I will post a few teaser shots for now, but this will be all until after the show. If you want to see them, come to the convention. The first picture is the roof of UP SD45T-2 4923.
Click on pictures to enlarge.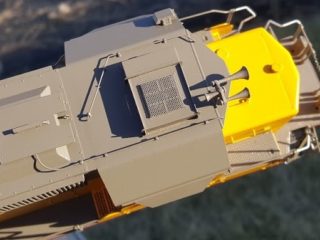 The next two pictures are from SD45X 9500. If it looks like there is something behind the dynamic brake grilles, it's because there is. There is a simulated resistor grid and connecting cables inside. The fans have been nicely replicated as well. Even after paint, the grilles are very fine-scale, allowing for a realistic view of the fan blades.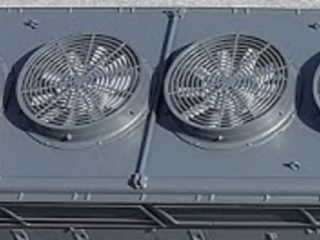 The last one for now is NS 1716 from the back end. This will be it until after the March convention. It would be really great to see as many of you there as possible.