1/2/19 – Happy New Year everyone!!
It has been some time since the last update and I am getting many emails asking for some news. Things are moving right along and progress will be documented and discussed very soon. However, at this time, I would simply like to take the time to speak briefly about our next project.
The SD40-2 drawings for the pilot samples are very near completion. My designer and I have been incredibly busy trying to get the details for the premium model accurate and it has been eating up a lot of my time, hence the lack of updates. By the time I leave the office, I am so weary of drawings and photos that I just haven't had it in me to stay longer and post anything. That being said, here are two internal 3D GOD drawing renderings that should seriously leave those of you who have reserved a premium model with a proverbial watering mouth. Parts drawings are nearly complete and actual parts already exist as well.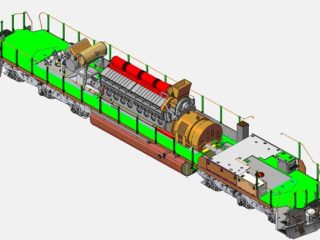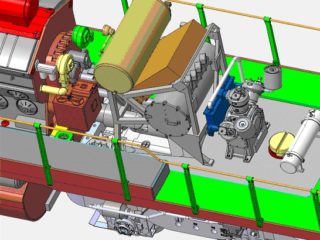 There is a lot more happening, but it will have to wait until future updates due to time constraints on my end as well as some factors that will be discussed at shows, where face-to-face correspondence is preferred. Rest assured, great progress is being made moving forward from this point. As always, email with questions and may 2019 be a great year for O Scale!!
9/25/18 – I just wanted to make a quick mention with regard to the Indianapolis O Scale meet this past weekend and thank Dan and Amy for their hard work putting that show together. MMW will continue to support the Indy meet in the hopes that it continues to grow and becomes what it once was. The participation of the hobbyist is required to keep these conventions alive and MMW is asking that all of you folks out there not attending these shows please make an effort to get to them, as they are the best way for the importers and dealers to more closely associate in the hopes of improving the hobby. Speaking for myself, input on multiple levels is acquired at many of these shows that just can not be discussed in emails. Interactive, face to face conversation is the best way to provide the modeling populace with the best models and the models they would like to see produced. Conventions allow for many other aspects of communication and demonstration not possible from any other forum or method, so please check the dates of upcoming shows and make an attempt to attend.
Thank you to those MMW customers that were in attendance. It was great to speak in person and share the progress MMW is now seeing in Korea. The 3D drawings of the SD40-2 project seemed to be a very welcome surprise to those who saw them. When time permits, I will post some of these drawings for those who were unable to attend the convention.
There is another trip to Korea in the schedule somewhere over the next 4-5 weeks, at which time there may be some new updates for the SD45 project as well. 
8/15/18 –  I have been trying to get to this update for about two weeks but keep getting sidetracked or just forgetting. MMW will be attending the Guildex meet near Telford, England coming at the beginning of September. Due to this, we will not be in attendance at the O Scale National. MMW will, however, be attending the O Scale convention in Indianapolis in mid September. It is my opinion that the Indy show will be growing over the next few years and will regain its former position as one of the larger shows in the U.S. thanks to the new organizers.
Lee Marsh, from Lee Marsh Model Company in Scotland, will also be attending the Indianapolis convention and will have a booth next to MMW's. He is doing some amazing things with regard to his Southern Pacific GS project, so please come out for the meet and see what Lee has to say about his project while supporting Dan and Amy with this convention. And by all means come around so that we can talk about our projects as well. Hope to see many of you in either one or both of these show locations.
7/6/18 –  After settling back in from a hectic schedule of O Scale conventions, holidays and a trip to Korea, I have a few photos to post to get everyone's blood pumping about the ongoing production of the SD45 models. I am not showing too much at this point, just a few shots that I think everyone will find interesting.
This first image is of step castings still attached to the sprue after casting. These are separated and 'dressed up' by the workers before moving to assembly.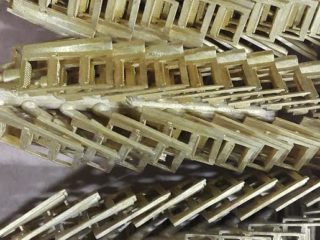 This next image shows some exhaust stack castings and other parts. Also still attached to the sprue in this photo.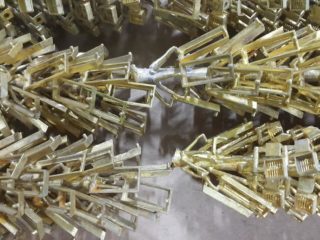 This image shows the radiator shutters for the SD45T-2 and SD40T-2 types after being fabricated. The small wires are connected to an actuator that will make them open and close when the locomotive is in operation.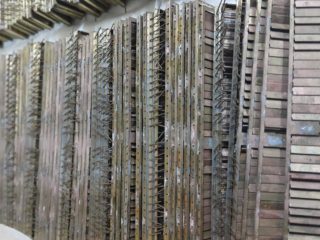 How about fabricated dynamic brake grilles instead of the very unrealistic castings we have seen on all EMD models in the past? Each component is a separate piece and soldered in a fixture for even and correct spacing. The worker that fabricated these said that each one takes roughly an hour to complete.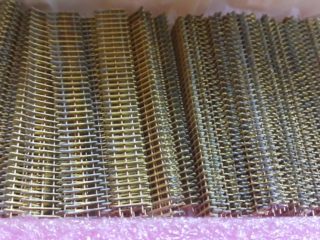 As time permits, I will also post some better photos of the painted samples. I will need to set up a place to get the best pictures I can, so please be patient.
5/9/18 –  Just a quick update for a few items that require mentioning. Several people have asked about our upcoming show schedule. MMW will be attending the O Scale West show in Santa Clara, CA toward the end of this month. We will have the painted pre-production samples there, but no production models yet. I would also like to take this time to mention that Lee Marsh of Lee Marsh Model Company will be in attendance at the O Scale West show as well. He is bringing in high end Southern Pacific GS3s, GS4s and GS5s in multiple versions. If you have interest, please come out to the show and hear what he has to say.
The subject of steam engines brings me to my next topic of discussion. For some inexplicable reason, there has recently been several emails asking about the possibility of MMW doing steam engines in the future, so I felt that I should take some time to address this in an update for those who may have the same question, but have not written to inquire. Many are requesting an MMW steam engine because they would like to see high end steam produced with the MMW drive, not to put too fine a point on it. The only answer that I can offer at present is that from the beginning, I have always maintained that the customers who contact me will be the deciding factor in what MMW produces. If enough encouraging emails come in requesting MMW to produce a steam engine, then we will, of course, follow suit and do as our clientele wishes. Please understand that we are still working on getting the first model produced and that the SD45 production and the subsequent SD40-2 pilot models are the primary focus at present. If you do have interest in seeing MMW produce steam, it is necessary to hear from everyone wishing to see this happen. Only then will the matter be taken seriously enough to consider as being a viable possibility. 
3/22/18 – We will gradually be trying to update the site with photos of the painted pre-production samples and other items of interest in the weeks to come. One interesting aspect regards future projects. After talking with people at the March Meet, the recent surge of interest for the premium DDA40X continues, as it has now surpassed everything else to occupy the top spot on the list of candidates for our next project. Currently, about 40% of the suggested production quantity has already received pre-reservation requests. These individuals will have first right of refusal when the project goes into development and confirmed reservations with deposit are required.  This isn't to say it will be next, but for the moment, it seems to be the project that is garnering the most attention. Anyone with interest in this project, or for that matter, any project from our "Future Projects" page, should let us know.
Several people at the meet asked when and if MMW has any plans to produce any four axle diesels. The simple answer is that there are already 3 projects of the four axle variety on the "Future Projects" page that have some serious backing and will almost certainly make it to production in the future. The GP7/GP9 project is the one looking the most positive with the GP38/GP40 project just a bit behind that. Then we have F units which are still gathering interest as well. These, when produced, will be by far and away the most accurately and correctly detailed GPs and Fs ever produced. They will also have our drive and prototypical truck design with the correctly scaled and modeled undercarriage and traction motors. So if this is what interests you, then by all means, please let us know.
3/19/18 – Having just wrapped up another March Meet, credit is again due to the organizers of the convention. As always, they provided a great venue, had a good draw and smoothly executed another fine meet. Credit to the Hill's for another job well done and a personal thank you from MMW for what you do to help support the hobby.
The pre-production samples will be photographed and posted at some point soon. As discussed at the convention, there are flaws on these models, but that's why we make pilot models and pre-production samples, so that the mistakes can be caught prior to the production of the models to be delivered. Regardless of the minor corrections to be made, they seemed to be well received and it was very nice of everyone who stopped by to express their support and appreciation for what we are soon bringing to market. 
3/3/18 – OK OK already. After yesterday's update, enough of you have emailed asking for pictures. I will post a few teaser shots for now, but this will be all until after the show. If you want to see them, come to the convention. The first picture is the roof of UP SD45T-2 4923.
Click on pictures to enlarge.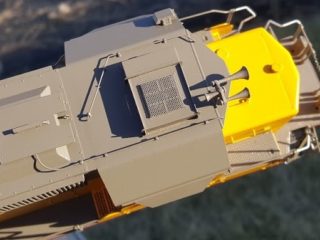 The next two pictures are from SD45X 9500. If it looks like there is something behind the dynamic brake grilles, it's because there is. There is a simulated resistor grid and connecting cables inside. The fans have been nicely replicated as well. Even after paint, the grilles are very fine-scale, allowing for a realistic view of the fan blades.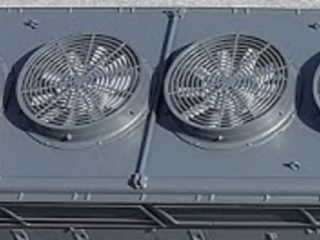 The last one for now is NS 1716 from the back end. This will be it until after the March convention. It would be really great to see as many of you there as possible.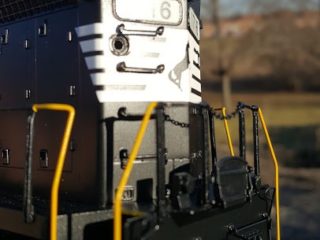 3/2/18 – After a particularly grueling journey to Korea, I am back stateside with four painted pre-production samples. I will not be posting pictures of these until after the March Meet where they will be displayed two weeks from today. Please avail yourself of the convention, as these shows need all of the support we can possibly give them to keep them alive and operating. As with the models needing reservations to be produced, these conventions need people to attend in order for them to continue to be held.
The SD40-2 pilot models are also underway. Currently, there is one standard and one premium sample SD40-2 in process. It is quite possible that these will be making an appearance at the March Meet even if they are not totally complete. My builder, Mr. Song, is also planning on attending again this year. We are hoping to have a translator on hand for anyone wishing to speak with him or ask him questions.
We are continuing to take reservations on the SD40-2 project. There were even some who placed reservations while I was in Korea. If you have interest, please inquire by email and we look forward to seeing as many of you as can make it to the convention in two weeks.
2/16/18 – I would like to take this time to express my thanks to everyone who placed reservations early to take advantage of the "Early Bird Special" offer that has now expired. Further reservations from this point will be at the standard reservation price per the listings on the "Reservations" page. The influx of reservations generated by our offer, has put us in position to continue with the SD40-2 project and put it into production right after the completion of its development. This should put the delivery of the SD40-2 project roughly some 18 months after the upcoming delivery of the SD45 project.
The "Early Bird Special" discount has also seen confirmed reservations of the premium models eclipse the halfway point. There are now fewer available than have been reserved. (See premium model page for details)
As I have previously mentioned, my upcoming visit to Korea on the 26th should provide a lot of material for discussion at the March Meet in the Chicago area, for those who will be in attendance in just one month from today. We are expecting to have some painted pre-production samples at our booth for this show, barring any issues getting them stateside in time. I will confirm this once I get to Mr. Song's facility and will try to post a quick blurb while I am still in Korea regarding having these at the March Meet. It is also my hope that Mr. Song will be in attendance again for anyone wishing to meet 'the man behind the curtain' with regard to the building of these fine models he is producing for all of us. 
1/31/18 – With January now coming to an end, I just wanted to remind everyone interested in the SD40-2 project to be aware of the "Early Bird Special" offer that will soon be coming to a close. At such point the price of models will increase as per the description that has been posted on the "Reservations" page now for the last two months. If you have interest in this project, please avail yourself of this offer and lock your pricing in at the discounted rate.
The first SD40-2 G.O.D. has been received and is nearly ready to send back to our builder. Pilot SD40-2 models will be forthcoming. As promised, it is our intention to get this project to production more quickly than our first project. There will not be a long reservation period as before, so we encourage those who have yet to reserve and would like to reserve to get their orders in very soon.  Please see the "Home" page for a complete list of the locomotives and road names currently offered. This list will be thinned at some point in the future, so if your road name of choice is in the red or yellow print, you need to make us aware of your interest soon. The SDP40 has also been added to the list due to some recent interest.
I am off to Korea again over the week of Feb 25th, so I should have much to share with those of you who are planning on attending the March Meet in the Chicago area in roughly 6 weeks. There should be a fair amount of information to convey regarding both projects and even perhaps some forward motion regarding the lumber car project. If you have questions, please feel free to email.
If I have any spare time prior to the March Meet, I will endeavor to post a short update regarding my upcoming trip to Korea. 
12/5/17 –  Before I head off to Korea again on Dec 10th, I wanted to make mention of a few items of importance. This will be a multi-faceted trip and there is a lot to cover over there in a relatively short visit. I will be inspecting pre-production samples. These are painted samples and should be in my possession just prior to Christmas. We will be covering the production models and talking about their anticipated delivery in a few months on this visit as well.
Also on the docket is an in depth discussion regarding the SD40-2 project. The G.O.D. process for this project has already begun and there is a formal contract for this project in place with our builder. There has also been a modification to the "Reservations" page indicating pricing and also the announcement of an "early bird special". If you have interest in the SD40-2 project, please take a look so you do not miss out. With the experience gained and with what has been learned during our first project, it has become apparent that the process can be streamlined. That being said, it is OUR GOAL to deliver the SD40-2 project by the 4th quarter of 2019. Down the road, with the help of reservations being placed in a timely fashion, we will endeavor to keep future projects to a production time of 2 to 2 1/2 years from the time initial deposits are requested. It is our intention to distance MMW from what some have referred to as "the decade plan", so that MMW customers can have confidence in our ability to produce models. As with any of our projects, to do this will require the cooperation from O Scale modelers and collectors to place their reservations early so we can reach the requisite production numbers sooner.  
10/23/17 –  Now back in the states, I can turn my focus from the conventions recently attended, back to the tasks required to keep the project moving forward. I would like to thank those reservation holders in Europe who attended. It was great to be able to put faces with the names I have become familiar with over the last few years. I also thank you all for the kind words and support given by you throughout this first project.
The convention that we attended was very similar to the ones in the states, yet different in ways also. Unlike the O Scale shows here in the U.S., there are many women involved in the hobby in Europe. Many who have great talent and displayed their abilities at the convention. It was very interesting to see.
As mentioned in the last paragraph of the previous update, I will begin composing the description of the processes involved in bringing an imported brass model to delivery. In the meantime, here is a photo of the full undercarriage that was just displayed at the convention in Germany.
Click on photo to enlarge.
10/7/17 –  Just a few quick topics of discussion before leaving for the convention in Germany this upcoming weekend. We have been collecting deposits for the SD40-2 project and are getting closer to our requisite number needed for production. My builder, Mr. Song, is ready and waiting to begin the design process for this project. There are several people who have written me with regard to having interest in the SD40-2 project, but have not confirmed this interest with reservations as of yet. If you are one of these individuals, it would be of great help in moving the project forward if that interest would be confirmed with formal reservations. Another 40 or so models reserved (of which would be covered by those originally expressing interest) could have this project into the design stage and preliminary G.O.D.s could be completed by March. This would place delivery in the 18 month range from March for those looking for these models to be delivered soon. Come on O Scalers, help me get this project throttled up. I can't do it without you. You're as much a part of this process as I am.
I am also currently taking a lot of interest in the DD40 project. This may be making a jump in the "standings" on the future projects page pretty quickly. As mentioned before. I am going to try to start piggybacking, or overlapping projects, as is explained on the future projects page, to get them to production sooner. The NS Heritage fleet is also edging closer and closer to production numbers. Those with interest should be contacting MMW to express that interest. As with the SD40-2 project, I can't do it without help from all of you.
Lastly, I am constantly being asked: "Why does it take so long to get a project to production?" and "Why don't you put out a pilot model to ramp up interest?" or "Why don't you get the project ready for production so that when the reservations come in, you can take it right to production?" Those are all understandable and legitimate questions and there is no short answer to any of them. I had a lengthy conversation with one reservation holder recently and after a long-winded explanation, he now understands why things are the way they are. The suggestion was made that perhaps I should bring some of these aspects of importing to the attention of the collectors and modelers so that perhaps they might understand why things are done the way they are. And why it is absolutely imperative that the importance of timely reservations is not gravely dismissed and misunderstood by so many. I will be posting an in-depth explanation as to why the process takes the time it does, why the related expenses and the great risk involved contributes to the time taken for completion, and also what and how things can be improved upon so that fine brass models don't take 5+ years to reach delivery. These answers and more will be posted soon after my return from Germany. 
9/25/17 –  Having attended the Indianapolis convention over the weekend, I wanted to acknowledge the endeavors of the new management regarding their organization of the show. Were there some first time glitches, of course, and I can't speak for everyone else, but with regard to me, they quickly and professionally resolved my issues and the show was much better attended than it has been in years. I suspect that under the new management that this show will once again regain its former glory despite the many faux pas committed by previous management that nearly spelled doom for this convention. I hope everyone will give the new management a chance, attend in 2018, and help Dan and his wife give us a fall convention worth attending again. I think they deserve that chance.
Many reservation holders attended the show and it was great to see you all there. Our next convention is in Europe. We will be at the Modellbahn convention near Frankfurt, Germany over the weekend of October 14th and 15th. I am greatly looking forward to seeing and meeting our reservation holders from the Netherlands, Germany, England and Switzerland there. Safe travels to all coming to meet us.
9/15/17 –  I have just returned from Korea for the purpose of checking on the progress of the project. My builder, Mr. Song, has moved into a larger building which should greatly facilitate a project the size of the SD45 project and also, the forthcoming SD40-2 project. As would be expected, this has placed him a bit behind schedule with the pre-production samples, but I believe for a good reason, as a project the size of this one will require space to coordinate assembly more efficiently. This should help alleviate issues created by attempting to produce such a detailed and diverse model group in too small a space. I would estimate his assembly area at about 5-6 times the size available to him at his last facility. As the owner of a machine shop myself, I have a great understanding and appreciation for what he is doing by moving and know it will benefit him greatly moving forward in terms of logistics within his facility. For example, this would allow for the ability to lessen the opportunity for errors caused by mistakenly adding a detail to the wrong model because it was in too close a proximity to another type setting on the same table.
As of this trip, Mr. Song's goal is to have some production models ready for delivery at the March Meet in 2018 in which, also as of this time, he is again planning on attending. It will probably only be a partial delivery, so I am unsure what will be completed at that time if this comes to pass. As of now, and if the schedule holds, I will be going to Korea in December to inspect the unpainted production models. Depending on how fast he can get them through the painting process, which requires a lot of time, and then get them back to his facility for reassembly, I will also be making a trip over there in late February or very early March for final inspection. Any models unfinished for the delivery in March will follow shortly thereafter, as Mr. Song's workers will no doubt be busy assembling the remainder of the models while he is here in the states. This schedule is what we are aiming to accomplish, so let's keep our fingers crossed that there are no problems or issues that set the schedule back.
Many have asked how I plan to handle shipping. As with many other things, I must handle this on a first come, first served basis. Even though the final installment has not been requested, there are a couple of reservation holders who have paid for their models in full already without being asked to do so. These people will be the first to receive their models as they come in from Korea. I am, BY NO MEANS, requesting that anyone pay their final installment at this time, but the earlier the final installment is received, the closer to the top of the delivery list you will be. It is really the only fair way to proceed with that process when the time comes. If you have interest in paying your final installment prior to it being requested for the purpose of receiving your model(s) earlier, please email your intentions before doing so to avoid confusion on my end.
Regarding future projects, there was some discussion with regard to them as well. On that subject, there has been a significant lull in the reservation process and interest for the SD40-2 project (presumably due to the time of year) which has seemingly begun to re-emerge now that summer is coming to an end. To those who are interested and who have yet to make formal reservations, please remember that the project can NOT commence until I receive a requisite number of reservations. If everyone who had originally expressed interest in this project by casting "votes" would step forward and confirm their  reservations with initial deposits, this project would already be sufficiently backed to begin the design process. It is understood that many are waiting for the road numbers to be posted, but the road number information is not required by Mr. Song until after the G.O.D. process is complete. That being said, the road names ARE posted, and the interest level needs to be known to be able to get the project underway. The road numbers will be posted sometime after my current tasks for the SD45 project can be completed. I must place emphasis on getting the SD45 project completed before returning my focus to the SD40-2 project. Rest assured, all projects will be addressed by the level of interest I receive from my customers.
As always, please email with questions or comments.
Here's a small example of what we've been up to lately. This was completed during my visit in Korea. Look at the detail under the walkway in this picture. Also, the flexible air lines actually attach to the truck as do the sanding hoses. Clicking on the picture will enlarge it.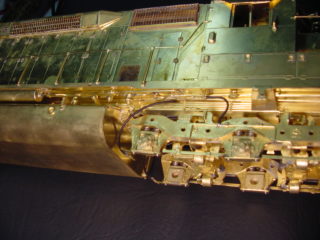 6/8/17 –  As of this date, the reservation process for the SD45 project is closed and no further reservations can be placed for that project. I am sending Mr. Song my completed production list this evening. I would like to thank those who took this deadline seriously enough to get their final reservations and deposits in under the wire.
There does exist the possibility that there will be some surplus parts for specific locomotives left over at the end of this project. If there is anyone who would like to be put on a waiting list in the event this does happen, or for some reason a current reservation is cancelled and a model becomes available, please email us and let us know of your interest. There is no guarantee that there will be any at the end, but only a possibility. If there are any at all, there may only be certain road names, numbers and eras available depending on the leftover parts remaining. In the event there are any extra models due to overage of components, these models will be priced $250 per model above the reservation price. Any names on the waiting list will be first come-first served when delivery time comes.
With the SD45 project moving into production, the focus will shift toward getting the SD40-2 project into full swing. Those interested need to keep in mind that waiting to place reservations pushes this project out further. The sooner reservation numbers are met, the sooner this project goes to production. So if you have interest, please do not wait to let us know. We only need roughly 55 more models to be reserved to be at a production level. That's not a lot, but before the project moves to the G.O.D. phase, we need those reservations.  
Thanks again to everyone supporting this first project.
6/2/17 –  After just returning from the O Scale West convention in California, I have yet to get a completed production list to my builder. Due to this, and while I get the list finalized after the additional reservations from the show, I was able to convince my builder to allow me extra time. I have until Thursday, June 8, to get this list to him. After that time I can take no further reservations. Any reservation MUST be accompanied by a deposit to be confirmed. Deposit must be received by or before the above date.
I have completed the corrections for the pilot models and have turned that information over to my builder. There will be four pre-production samples produced. These will be painted and are scheduled to be delivered by late July – early August. Once approved, full production will commence.
I have received many emails asking for photos of the pilot models to be posted. I have full intentions to do so, but there has been no abundance of time with the pilot corrections and a show to get ready to attend nearly simultaneously.
Hopefully soon, I can get back to posting the locomotive numbers for the next project, but a trip back to South Korea looms on my horizon as well.
Questions regarding any of the projects are always welcome – please email with inquiries.
4/12/17 – As of today, all requests for the second deposit for the SD45 project have been emailed or sent by mail for those who do not use computers for communication. If you have a reservation for the SD45 project and did not receive this notice, please contact us immediately so we can be sure both parties have current information.  
I have received more than a few emails asking what exactly the May 31st cut-off date is in reference to. This date only pertains to the SD45 project. As of June 1st, I will no longer be able to take further reservations for the SD45 project. Anyone who has not reserved and would like to reserve or anyone who would like to add to their current reservation MUST do so before May 31st. Any NEW reservation must have the commensurate deposits at our facility by or before that date or I will not be able to accommodate their reservation. 
Separately, the reservation process for the SD40-2 project is officially open. To confirm any reservation, the initial deposit of $300 per model reserved is required. Those people who have expressed interest in this project have been contacted regarding reservations. If you are interested in reserving models from the SD40-2 project and have not been contacted, please contact us. Several people have asked about the reservations they made one or two years ago for this project – as of April 1st, the only confirmed reservations are those who have sent in the $300 per model deposit. Suffice to say, if you have not sent in a deposit for the SD40-2 project, you DO NOT have an official, confirmed reservation.
The Premium Spec model of the SD40-2 project seems to have the attention of many. Of the 50 that are to be produced, 20 of those have been spoken for as of yesterday. Those who are interested seem to be getting their deposits in quickly to be sure they get one (or more in some cases). If this version interests you, please email while they are still available. The reservations for this version are being taken on a first come – first served basis. Once the 50th model has been reserved, that's all she wrote.  It has not taken long to get 40% of them reserved. The page for this version has a running tally of how many are left, and although I do not have the time to keep it updated daily, I will try to maintain it every few weeks.
Please check out the "Future Projects" page, as there have been many changes and additions.
As always, contact us with questions.
4/1/17 – Generally after a large train show things seems to go idle for a bit and there is room to breathe a little. Not so this year. I have received many emails awaiting pictures and information with regard to the pilot models that were on display at the meet in Chicago a few weeks ago. Those models are back in Korea with Mr. Song so that he may complete them. He has scheduled their completion around mid-April, and has informed me that they will be back stateside shortly thereafter. In the meantime, I have some detail pictures of those pilot models posted and they can be found under the "Locomotives" button on the menu bar and then hover over the "SD45 project" listing and there you should see the listing for the "SD45 Pilot Model Photos".
The status for the SD40-2 project has also been changed to 'active'. We are requesting that anyone interested in this project please contact us as soon as possible. We have just barely begun the process of posting photos for that project, but reservations can be placed with the understanding that road numbers can be chosen after the photos have been posted. We are attempting to get this project underway as soon as possible so there is not a long delay between projects. Please see the "Reservations" page, which has been re-updated, for more information, or email with any questions.
Also, many are emailing to inquire as to the second deposit. Requests are going out via email. It is a pretty ponderous list, so please be patient.
3/22/17 – After having just dropped off my builder, Mr. Song, at the airport to return to Korea, I wanted to post an update regarding some questions that were asked during the Chicago March Meet this past weekend. This may be a lengthy update, but there is a lot to convey regarding this and other projects. I also want to thank all of those who attended the meet and came by to say hello and take a look at our pilot model bodies. It really was great to see and hear from all of you who stopped by. Mr Song also asked me to thank everyone whom he met at the show. There were a lot of positive comments from everyone who stopped by to see the models – it has been a long time coming.
For those who are continually asking how much longer I will be able to accept reservations, I now have an answer. As of May 31, 2017, I will no longer be able to take further reservations for the SD45 project (some models are already off of the list of possibilities). In a meeting on the Tuesday after the March Meet show, Mr. Song and I were going over some final scheduling and it was at that time he informed me that initial construction of the production units will commence as of about June 1. If there are any individuals who would like to reserve one or more models, or who would like to add models to their current reservation, I must have the reservation(s) and commensurate first and second deposits in hand and confirmed prior to that date. Please email with any inquiries.
Also asked is the question about when the SD40-2 project pictures will be posted. There is more going on with this project than anyone knows. I am going to make every attempt to at least start posting the photos before the end of March. Additionally, Mr Song would like to have all available information to begin the design work on that project somewhere between June and October. If I can get the information together, and if I can get a little help in the form of confirmed reservations once I officially begin taking them with initial deposit, there MAY be a pilot model on my table at the March Meet in 2018. Please understand that to do this it will require that people step up and place their reservations without hesitating for months. I am always asked why it takes so long to get projects to production, well that is the most major reason – the delay in getting people to make the commitment. Once the initial reservation and deposit information is posted, I plan to post the remaining number of reservations needed for the project to proceed – essentially a countdown to project commencement.
There has also been some changes to the "Future Projects" page, as there has been some recent requests which have resulted in a conversation with Mr. Song regarding these potential projects. The "Reservations" page also has some updated information regarding both the current project and the SD40-2 project to follow.
I would also like to thank some of the other importers as well as some individuals for their advice and assistance to get the project this far. In particular, George Kohs, for recommending and introducing me to Mr. Song, who is obviously a talented designer and craftsman, as evidenced by the pilot models he has produced. There are those who do not hold George in great favor, but without his efforts and mentoring, there might never have been pilot models on my tables at this years' meet, so please consider this when formulating an opinion. Thank you George, for everything!! Also of note is Lee Marsh of Lee Marsh Model Co. who also has experience in Korea and has been kind enough to lend advice where needed. I also extend my thanks to those real railroad operators and photo collectors who have provided invaluable information where needed, I suspect you all know who you are.
There will be some pictures showing the detail of the SD45 pilot models in the SD45 project folder under the "Locomotive" button on the menu bar soon. Check back regularly if they have not been posted. Please email with any questions.
2/13/17 – Having just returned from Korea, there is much to tell. My builder assures me that the pilot models will be at the March Meet in Chicago as he promised. In fact, he will be there in person. The trip went well. There was much discussed in regards to this project and future locomotive and rolling stock projects as well.
To this point, these models are living up to everything advertised. The detail on them is such that has never been seen on an O Scale diesel production to date. I am favorably impressed by what I have seen. Below is a teaser shot of two different types of radiator screens to demonstrate the level of fidelity and intricacy that these models will possess. The diamond shaped screen would be as those on an earlier model SD45 and the rectangle type would be from later variants.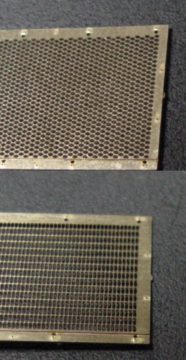 This is the level of fidelity throughout the sample model I just got back from inspecting. It isn't finished just yet, but there was certainly enough there that left no doubt as to what it was or what kind of quality and detail it will have. It appears this will be every bit as detailed as what MMW has been advertising. For those of you who can not make the show in Chicago next month, I will post some photos sometime afterward. Comments and questions are always welcome.
1/27/17 – Since next week may be a little too busy for an update, I decided to post this week.
I am headed back to Korea on Feb. 5 for inspection purposes. The first pilot model is the object of this inspection. It is probable that I am more anxious to see what my builder has done than many of the reservation holders are. I hope this is getting as exciting for everyone waiting for these models as it is for me. I will be spending the entire week there, so I will post a full report after I recover from the trip. I may even have a few teaser pictures to post if I remember to take my camera.
12/21/16 – Just a quick shout out to wish everyone a Merry Christmas, or if you celebrate in another fashion, Seasons' Greetings. It is our hope that everyone's holiday will be spent with their loved ones and/or good friends and that 2017 will be healthy and prosperous for all.
Another visit to Korea is in the works for the end of January to view and inspect the upcoming pilot models. I am likely as anxious as anyone to see them, if not more so. They are still scheduled to be debuted at the March Meet in the Chicago area.
The photos of the SD40 project will begin to appear on the site sometime after the first of the year. It has been busy here with the holidays and trying to prepare for a run of transmissions for the SD45 project numbering in the hundreds. Not quite the same as retrofitting locomotives, as the process must be made more efficient to be able to produce them in mass quantity. Punches and dies for gaskets are being designed and machined. These are presently cut by hand since they are not required in quantity. Assembly fixtures are also being designed and built. Suffice to say that putting the current project ahead of the future projects is paramount to being ready when the SD45 shells are delivered.
Anyone with questions or comments is encouraged to email.
10/14/16 – The road names have been posted for the upcoming SD40-2 project. The photos are yet to follow. We plan on having some lease fleet names as well, but there are so many that it would just be too much to list them all. If there are people with interest in lease fleet units of the locomotives of this project, please email and request specific lease fleet names and they will be added to the list.
We realize that many of the road names listed will not garner the necessary interest and will not be produced, but the opportunity will temporarily be there for anyone wanting an obscure road name. The deadline for choosing road names for this project will be March 10, 2017. The road names will be thinned out after that date and will become unavailable beyond that time if requisite numbers for any given road name have not been acquired. There will be a change in the reservation process due to issues with the last project. These changes will be posted on the "Reservations" page of this site.
Premium version models (see post from 9/5/16) will only be available in the road names that achieve sufficient reservations for the "standard version" models. The "premium version" will likely only be available in the SD40-2 type. This will be discussed with our builder upon our next visit to Korea to inspect the pilot models for the SD45 project.
10/11/16 – We are beginning the process of updating the website to include the upcoming SD40-2 project. The appearance of the "Models" button on the menu bar will soon be changed to read "Locomotives" and there will be a "Rolling Stock" button added due to the announcement of our proposed NSC lumber car project. Please understand that this will take some time to complete, so if you don't see the road name of your preference on the list immediately, please do not panic. Anyone who has a suggestion for a road name that they think may be missed, or a lease fleet name that they would like to see produced, feel free to email and inquire.
Further information will also be made available for the premium SD40-2 models proposed in the 9/5/16 update. To this point, the idea has been incredibly well received and about 1/4 of the 50 to be produced have already been pre-reserved after only having been announced for a little more than one month. One recurring inquiry that I have been fielding regarding this "super-spec" model is that people want to know if MMW will make more premium units if the demand is there. The answer is no, not for the SD40-2 project. If the premium model is successful, we will offer this option on future projects as well, but still in limited quantity only. This concept has already been discussed with the builder and the quantity for the SD40-2 premium version is already set in stone. The only variance will be in the road names selected by those who get in their request before they are all spoken for. Another reason not to change the quantity is that people want these to be collectible and so the quantity will remain firm at 50 to keep them somewhat rare. Currently, the roads requested for the premium version are AT&SF, BN, C&NW, N&W, NS and UP with all but one of those having multiple requests. Anyone having interest in one of these models should let us know.
As for the standard SD40-2 part of the project, we will be able to accept reservations until the cut-off point decided by the commencing of the production units by the builder.
Also, with the recent announcement on 9/5/16 regarding the progress on the SD45 project, many reservation holders have emailed to ask about the second installment. We will be requesting the second payment at about the time the pilot models are received in December/January. This is official, as now that the builder has given his production schedule, a better idea of the payment schedule is possible. Anyone wanting to reserve models or add to their reservation needs to do so soon. The ability to reserve further models will be cut-off after the review and approval of the pilot models.
9/5/16 – Upon returning from Korea, I have a lot of information to convey in this detailed update. I would first like to thank my builder for his hospitality. The Koreans are a pleasant people and the visit was very enjoyable. There was a lot of business discussed in what was a very short period of time, but I think there will be news here for those O Scalers interested in high end brass diesel models and potentially high end brass rolling stock.
I will start with the current project. Now with the GODs finished and in the builders' hands, production schedules have been set. January of next year will see unpainted pilot models delivered for four variants of the SD45 project. We will have an SD45 built complete and upper halves of SD45-2, SD45T-2 and SD45X. These will be debuted at the March Meet 2017 in Chicago. My builder has estimated the delivery of the production units in the last quarter of 2017. For those of you who have been asking, the second deposit will be requested soon. There may be some models with insufficient reservations removed from the proposed list. Any reservation holders affected by this, if applicable, will be contacted as soon as the builder completes his review of the drawings now in his custody.
Moving on to future projects and starting with the SD40-2s, I have taken preliminary drawings and information to my builder and now have his considered input about this project. There will be a standard model to the same build specification as the SD45 project. A limited quantity of premium models with opening hood doors and full engine compartment detail will also be available (photo at end of paragraph – click to enlarge). These doors will be "latching" doors so they don't randomly swing open and closed when they are supposed to be closed. These models will be fully operational, so they may be run on a layout with random doors open and engine compartment visible, as we have all seen on the real thing, if the owner so wishes. The pricing on the standard units for the SD40-2 project will be $2,800 each. The pricing on the premium model will be $4,200 per unit. Production of the premium models will be limited to 50 pieces ONLY, so if this option interests you, put in a preliminary reservation while they are available. These units will also have additional details elsewhere that the standard models do not have. With the exception of actually running on diesel fuel, they will look like the real thing in nearly every way.
We are also considering adding the SD35 to the next project. If there is interest, I need to know as soon as possible or the build will proceed without this option to simplify the project. The window of opportunity is small, the time frame limited, so if you have an interest please do not wait to let us know.
As for rolling stock projects, I am hoping that there is still interest in limited edition high specification brass freight cars. I have spoken with my builder about this possibility and I have pricing for the first possible freight project. Due to the fact it has not been satisfactorily produced in O Scale to this point, I have chosen the National Steel Car (NSC) 73′ center partition car / lumber car (photos at end of paragraph – click to enlarge) with a little persuasion and some sound reasoning from a fellow O Scaler. The model will be available in a few different versions and will be fully and intricately detailed with tie downs and exposed underframe detail. These cars exceed 18″ in O Scale. Loads will be available separately at extra cost, again dependent on demand. There will be a dedicated page added to our website showing the different types and paint schemes. The models without load will be priced at $500 each. Everything is demand dependent and whether we can get enough reservations to make production viable. The level of interest in these cars will also likely determine whether MMW will pursue other rolling stock projects. It is important to know the level of interest in a fairly reasonable time span. If you do have even a little interest, please let us know soon. As with the SD45 project, the sooner we have sufficient reservations, the sooner a project of this nature goes to production.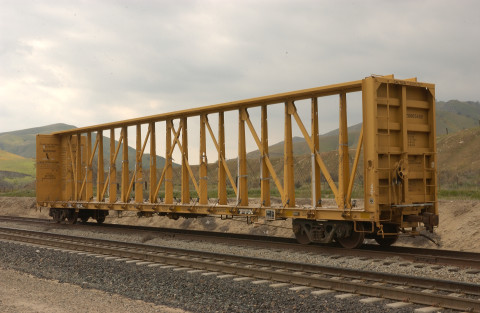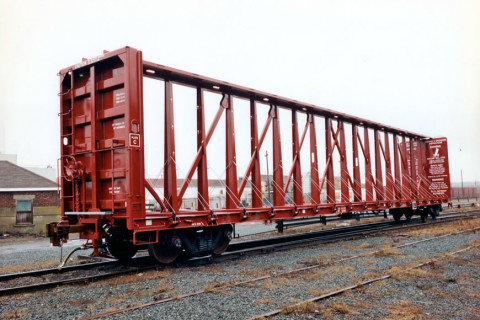 If you have questions please make contact, this update is to provide information on projects that may be of interest to you, it cannot comprehensively cover each project.
I intend to streamline the reservation process for future projects, information will be posted on the reservation page soon.
8/17/16 – At long last, the final GOD is complete. I am heading to Korea on Aug. 29 to go over the drawings and details with my builder. We will be discussing possible future projects as well as setting a timeline for the delivery of a pilot model. I will share that information upon returning from Korea sometime after Sept. 5. I hope to also have some estimated pricing for the SD40-2 project to follow this project and perhaps even a currently undisclosed rolling stock project I have been researching a bit.
Previous updates speak of my intentions to begin posting road names and numbers for the following project, and many of you have been rattling my cage about getting it done, so my goal is to get started on the listings sometime in mid September. There are a few shows mixed in there (Indianapolis O Scale and the Brass Expo here in the Chicago area), so that will keep me busy too, so please be patient, they are coming. 
5/13/16 – Hello all. Hopefully the fact I am writing this on Friday the thirteenth won't bring bad luck to the project, but I have received several emails as of the past week inquiring as to the status of the second installment. Firstly, the G.O.D.s are completed with exception to the tunnel types. Once these are completed, I will be scheduling a trip to Korea to discuss the delivery of the pilot model which I hope to be displaying at the Indianapolis meet if it is still being held in September. Secondly, the next installment will be required sometime just before that. There will be mention of it on this page just prior to sending all reservation holders notice on an individual basis. This has indeed been a long process, but if details are to be accurate, every aspect of each model, each road name and each locomotive type has to be gone over carefully. Anyone with questions should feel free to email.
2/24/16 –  With the SD45 project moving along, we have been receiving some suggestions and inquiries as to future projects. Some of these emails have been in regard to the possibility of doing the NS Heritage Fleet of locomotives. This is apparently due to the announcement of producing the NS/EL SD45-2 #1700. There are 20 of these Heritage locomotives in predecessor schemes. It is understandable that most collectors do not relish an outlay of that magnitude at one time for all 20 units, nor can many afford what would be the cost of a luxury car put toward one's hobby. The implications for those who have significant others does not exactly make for an ease of tensions between two people either. Therefore, if we were to do them, we would spread them out at 3, 4 or maybe 5 per year so that more people would be able to purchase them all if they so desire. Before taking this any further, we will need to know what kind of interest is out there for these models and how many people would be willing to commit to them. If the quantities are high enough, we will make every attempt to try to work these into the schedule. Please email with any questions and please let us know of your interest, as these can only be produced if the interest is there.
Please be reminded that this potential project would not supplant the SD40-2 project, but would come sometime after. There will be another opportunity to "vote", once the SD40-2 project is underway, to decide what exactly will be produced next. We have already begun collecting photos for the SD40-2 project and will hopefully be posting them soon. 
2/12/16 – There has apparently been some confusion about the update on 2/2/16. I have received some inquiries as to whether or not MMW is still taking reservations for the SD45s. We can still take reservations, but as of this time, the initial deposit will be required right away with any new reservation to confirm said reservation. The only reservations that have been cancelled are those that the reserving party has not sent a deposit for. Any individual that had a reservation cancelled due to a lack of deposit remittance may make another reservation for either the same model or a different model, but those reservations will require a deposit forthwith to confirm. Models reserved without any deposit WILL NOT be built and will therefore not be available after production. Any model that may become available after production will not be available at the reserve price. Special consideration, with regard to pricing, has been given to those who have supported this project by reserving.
I have also fielded several emails over the past few weeks inquiring as to whether there will be another run of these models at some future date. The simple answer is no. MMW will be moving on to other projects as mentioned on our "Future projects" page. To add to that, it is highly unlikely, to the point of near impossibility, that there would ever again be enough in the way of interest to produce another full run of this locomotive after having already fulfilled most of the desires of those who would like to have them. We have no intentions of re-running any of our projects now or in the future. There are plenty of locomotives to keep us busy for a long time to come. We are also considering the possibility of rolling stock that doesn't easily lend itself to plastic production. We will visit this a bit more once we have the SD45s delivered and under our proverbial "belt".
2/11/16 – As of today, all materials and G.O.D.s for the SD45 types have been turned in to the builder. Only the road names and numbers of the SD45 locomotives listed will be available from this point forward. The ICG unit being the last of the additions to that type.
Work will now shift to the SD45-2 of which there are only two real variations being that the BNSF units were AT&SF and the NS and Conrail units were originally EL. Due to this fact and that many of the remaining types have few road names and also some overlapping into other roads due to mergers as in the case of the SD45-2s, it is expected that the G.O.D. process will be completed soon.
MMW will be attending the Chicago meet in April and we will have the AutoCAD G.O.D.s on hand. They will not be on display for everyone due to the inherent issues of being viewed by competitors, but we are willing to show reservation holders G.O.D.s of their respective reserved locomotives upon request. These are incredibly detail accurate, scale drawings from every angle of the locomotive for each and every version of every road name, so please stop by our booth and say hello.
2/2/16 – I wanted to take this time to mention to all reservation holders that as of this Friday, Feb. 5, 2016, any reservation that has not been confirmed by sending in the initial deposit will be cancelled. There are a few individuals who we have not been able to reach, have not sent in their deposit or simply have not responded. If you have not sent in your deposit by the above date, the model you have selected will not be built. Anyone wanting a model after that point will have to contact us for a new reservation for which an immediate deposit will be required, providing that particular model is still available for reservation.
The G.O.D.s for the SD45s are complete and the drawings for many of the road names have already been sent to the builder. The SD45-2, SDP45, SD40T-2, SD45T-2, SD45X and SD45-2B are yet to be finished, but due to the fact that there are few road names for these models, the process should be quick. There will be more locomotives gradually removed from the list of available models as we progress toward that point.
Due to a sudden surge of interest , the ICG SD45 #7000 has also now been re-posted to the models page and available for reservation. 
1/28/16 –  As of last evening, we have now received enough serious requests to make available the NS 1700 in the Heritage Erie Lackawanna scheme. Sufficient reservations means this model will indeed now be produced. Anyone else with any interest should contact us soon. The listing is posted under the SD45-2 NS units on the "Models" page.
There is one other model as of this late stage that has received some attention – the ICG SD45 #7000. It was a unique locomotive to the ICG. It was originally offered, but removed from the list due to lack of interest a while ago. One reserver was going to take an undecorated D&H #802 and modify it to make himself a #7000. After a few more inquiries from others regarding this model, the decision was made to make this offer here on this page. Due to its similarity to the D&H 802 (already being produced) it would be a simple matter to change of a few external solder-on components and paint it orange and white in order to produce it. We need one more reservation to be able to add this one to the list. Any takers? Please email with inquiries.
Any additional suggestions would need to be identical, or nearly so, to a model that is already being produced with only a change of paint scheme as with the ICG SD45, so please check production models and confirm major details before contacting us. 
1/27/16 –  Due to request, Southern Pacific SD45 road number 8805 has been added to the SD45 list. The 8805 shares the same details as the 8837 and therefore only the road number will have to change. Apparently there weren't enough road numbers available for some folks, so we hope this addition will satisfy those who wanted to get more than one of the "as delivered" SP SD45s.
If there are any other such requests where there are not sufficient road numbers available and that do not involve changing detail components on the locomotive and simply changing the road number is possible, please inquire by email.
1/22/16 –  Several emails have been received asking why the other truck types have not been posted. Up until this time I didn't think it would be necessary, but apparently some of those who have reserved models with the non-posted trucks want a taste of what is to come as well.
One person, in particular, who lives in Germany and is becoming a dear friend, has been battling cancer, and is primarily responsible for giving me the incentive to further the evolution of the detail on these trucks. He, too, has been asking for more renders of the various trucks. Therefore, I am posting renders of the Flexicoil C1 and C2HC types which had double clasp brakes. As of yet, there is no rendering of the Flexicoil HT-C, but we will make every effort to get one posted at some point.
Click on image to enlarge.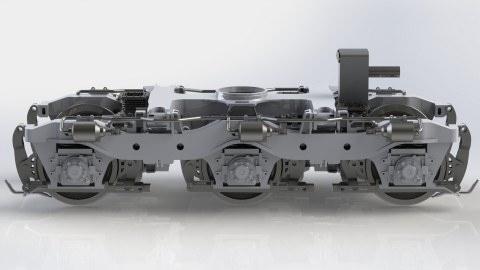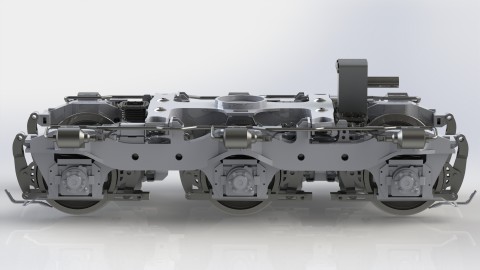 1/4/16 –  Here's wishing everyone a healthy and prosperous New Year. 
The work continues on the G.O.D.s, though the tedium was admittedly taking a toll. The holidays provided some time away allowing for refreshed eyes to again begin scouring through minute details specific to each road name. The majority of the work is complete for the SD45s, leaving the related locomotives yet to be done. Since there are fewer road names for the remainder of the locomotive types, it is expected that the work on these other types will be completed more quickly, as there are fewer variances to account for. 
We will hopefully have more news regarding the completion of the G.O.D.s soon, so check back or email for further information.
Thanks to all supporting this project.
10/23/15 –  While making the necessary corrections to the G.O.D.s from the builder, we have fielded several emails asking about some of the differences in the trucks. So that reservation holders may have a comparative look, we are posting a few of the different types already shown in some aspect in previous updates. These shots are scale renderings nearly complete with bolster and mechanism. Note that the bolster rides on springs extending into the pockets on the transom of the frame. They are difficult to see, but they are visible. This is how the prototype is built – just another attempt to make these models realistic in as many ways as possible.
Seen below are side views of the C2L, C2HL and C2H trucks, respectively. Although similar, there are many differences and we are trying to capture every detail as accurately as possible. The high and low mounted brake cylinders are not the only differences between these trucks, but they are the most noticeable. Have a look for yourself. Clicking on any image will enlarge it.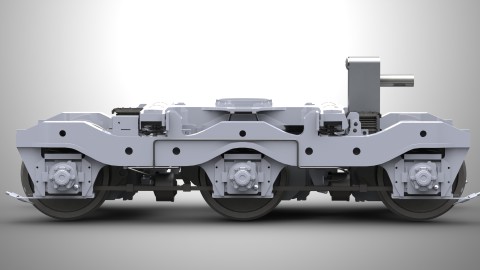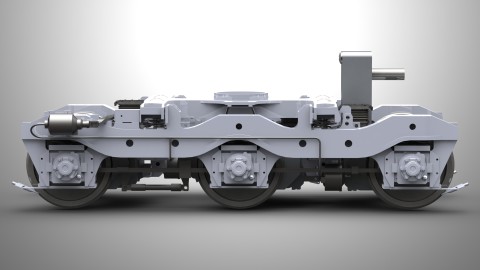 10/8/15 –  We have been receiving emails regarding our next project as well as other future projects now that the SD45 project is progressing. There is still work to be done with the builder on the current SD45 project, so for the moment, that is still our main focus. Working through the G.O.D.s that the builder has sent and getting them corrected is priority number one. It is tedious work and every detail must be checked thoroughly to make sure nothing is overlooked. Any flaws missed during this process may find their way to the models. However, While giving tired eyes a rest from scouring minute details, we will be working on moving the SD40-2 project into the first phase – confirming reservations.
Anyone who wants to place a formal reservation at this time may do so. Many people have let us know their intentions to reserve, but we now need more concrete confirmations. We will not have pricing until we approach the builder with the information, but that will have to wait until the SD45 has been moved entirely to construction and the builder has time to evaluate another project for production. It is expected that the pricing will be in the same vicinity as the current project. Please email for details.
Having learned so much from this first project and knowing what is now known will facilitate a quicker development period and a more rapid move toward production of the next project. We are attempting to see that the next project will be following right on the heels of the current SD45 project. Design development with the builder can begin when they move the SD45s to construction and free up their drafting room of the current project.
The project after the SD40-2 has yet to be decided. We need everyone interested in locomotives appearing on our future projects list to let us know what they would like to see next.
10/6/15 –  Today we received the first of the preliminary G.O.D.s from the builder. We will be going through them and doing our best to catch any errors before sending them back so they can be detailed for each railroad. This is the first step toward production and we are really looking forward to the development of these models.  
We would also like to remind those who are undecided and the two or three folks yet to confirm their intentions for their reservations, that time for new reservations is finite and although we do not have a date when the builder will tell us that additional reservations are no longer possible, that day is growing closer. Anyone interested in one of these models should let us know as soon as possible.
9/15/15 –  Now back from the Indianapolis meet, I would like to express my thanks to those who stopped by to discuss the latest on the project and also to the new customers who reserved models while there. The G.O.D. process has begun and we have heard from almost everyone regarding the initial deposits. Those few out there who have not made their deposit intentions known, need to get in touch with us very soon. If you have received no correspondence regarding deposits please contact us ASAP. Reservations will be terminated if we do not hear from you. There are not going to be extra models made – we are making to reservation ONLY.
During the show, we unveiled some new detail renderings of the trucks on a display monitor at our booth. Those who were watching this monitor flip through the truck detail pictures had asked if these pictures would be posted on this site. Here are a few of those shots.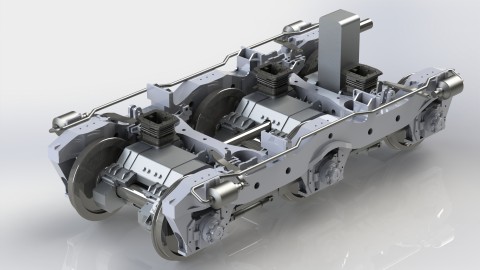 These are of a C2H Flexicoil truck with the traction motors and most of the other details on them. The bolster, also fully scaled, was left out so that the detail beneath could be seen better. Note the axle showing between the two bearing bosses. To allow this to be the case, these will actually be pinion driven, as is the real thing, from inside the pinion cover on the side of the traction motor. The transfer tower at the inside end of the truck extends into the carbody allowing the drive to be concealed.
All trucks will be so equipped per the respective details for each type. 
Feel free to email with any questions.
8/20/15 –  Here are a few more teasers for you detail enthusiasts out there. After supplying the builder with transparent drawings of the traction motors with the "super stealth" drive drawn into them, he has indeed assured me that having these traction motors done this way is easily possible. Therefore, this is but one of the features that will be seen between the truck frames shown in the post below.  The shaft protruding from the housing is the trans-axle shaft for the drive. The ball bearings are also visible on the axle ends. The axle is clearly visible between the bosses just as on the real deal. These bosses are also equipped with ball bearings. The axle is actually driven by pinion gears inside the pinion guard as it is on a real EMD diesel, allowing the axle to be seen without having transverse gears cluttering the realism.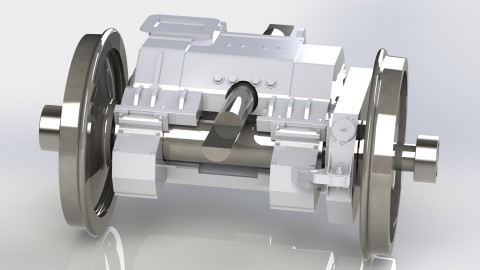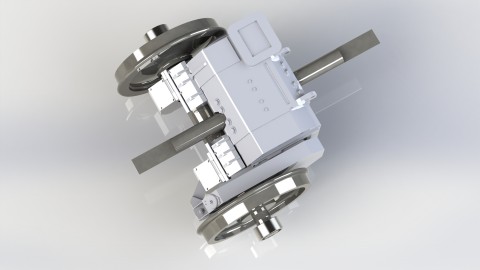 8/18/15 –  I have been in contact with our builder every day for the past several days to tie up loose ends and bring this project to the next stage. The pricing is finally set and we are all ready to begin. I will be contacting ALL reservation holders over the next few days to let them know pricing and deposit information. I have come under advisement, as a new importer, not to divulge too much information regarding pricing on this site, so if anyone considering reserving a model is interested, please contact us via email for more information.
Many have contacted me regarding the truck frame pictured in the last update – wondering how this will be constructed and that they have heard that it can not be made as one piece. The fact is that even the real thing was not made as one piece and that it is several castings put together as a weldment. A very similar process will be used to produce these frames, so it will indeed be possible to achieve a truck frame with the appearance of the one pictured below. The same images have been sent to and discussed with the builder along with many drawings and pictures of traction motors and other components that will appear on the trucks.
If you have not received any correspondence from us by 8/22/15 regarding your reservation, please contact us.
5/29/15 –  For those of you who have been anxious to see some progress on this project, we now have a fairly major teaser for you. The images below depict accurate renderings taken from 3D drawings that will be used in the making of the trucks for our SD45 project. This particular truck frame is a Flexicoil C2HL. We will be adding more components to the frame in the coming weeks, such as traction motors, brakes, brake rigging, journals and all other components right up to the correctly detailed bolster. It has already been determined that our drive can be adapted to fit inside scale traction motor shaped gearboxes, so these trucks will resemble the real thing in nearly every way possible. Now on to the images…….
Click on to enlarge.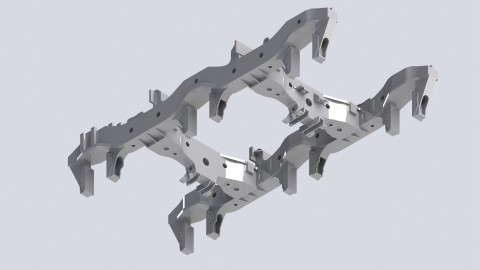 5/13/15 –  The research on the trucks is nearing completion. This is the last major hurdle to make sure the details are correct on these models. There are six different types of Flexicoil trucks that will be implemented to make these models accurate. The following is a list of the trucks to be used on this project in the order of their manufacturing appearance chronologically: C1, C2L, C2HL, C2H, C2HC and HT-C. The model pages are in the process of being updated with what model received which type of truck. The only truck left to list is the HT-C type, as all others have already been listed under their respective locomotives. 
Solidworks 3D drawings are well underway and we will begin posting 3D renderings of the different types of trucks in 2 – 3 weeks. The renderings will show the level of detail and fidelity that will be going into these models. Anyone with any questions regarding truck types, please email with questions. 
Once the trucks have been drawn and posted, we will begin the final 3D drawings of the remainder of the locomotive(s) for the builder. Things seem to be well underway to finally get this project to the next stage by what we hope to be summer's end. To those of you who have been patient, we thank you. The upcoming drawings should be a good indicator of how far we've come and how close we're getting – and should spark some serious anticipation from those of you who are hungry for a never seen before, highly detailed American diesel.
3/20/15 –  One more quick update: We have received the first report regarding the performance of our newest "Super Stealth" drive system. I have updated the "Diesel Drive" page (located under the "Features" button on the menu bar on the home page) with the latest information about the new drive and have also posted pictures. I have included the comments of the modeler, mentioned above, who has already operated his after picking it up at the March Meet last weekend. He emailed me to tell me how it performed and I have posted his comments verbatim. This gets one more obstacle behind us so that greater effort can be put toward getting things moving in Korea.
3/17/15 –  After returning from the March Meet, I would like to thank everyone who stopped by to say hello and discuss the project and also to see and discuss the very latest and final variant of the drive system, called our 'Super Stealth Drive', which many modelers enthusiastically watched demonstrated at our booth. I will try to post some pictures and information about it soon. 
It was also brought to my attention that some reservation holders are a little anxious for some kind of update regarding the SD45 project. Rest assured, I am still working to get accurate information regarding traction motors and some of the details for complete trucks. With the weather now breaking, I will be visiting some locomotive scrapyards and railway museums in this area to finalize this information. If anyone currently has, or has access to, this information and would be willing to share it to facilitate moving this forward more quickly, please email us. Every little bit helps.
I also had opportunity to meet with Lee Marsh, of Lee Marsh Models in Scotland, who pre-arranged to come to our facility Friday before the show for a tour. It was very interesting to hear his take on the problems and challenges of being a brass importer in todays' day and age. I very much enjoyed visiting with him and encourage anyone who appreciates fine models to check out his products on his website http://www.leemarshmodelco.com. Even if you aren't necessarily interested in European prototypes, one can still appreciate the detail and craftsmanship that goes into his productions.
9/3/14 –  It has been some time since our last update and there are those of you who have emailed wondering if production is getting closer. The possibility exists that production could have started already, but due to a last minute drawing provided by EMD, things were pushed back just slightly. 
This drawing is of the entire truck assembly, which has since been provided to the builder. I broached the subject of a nearly complete undercarriage complete with mock traction motors, stabilizer springs, ducting, cabling and other details on the trucks. It is indeed possible that with the drawings we have procured plus some small detail information yet to be obtained, it presently appears that these models will indeed have these features barring any major last minute pricing change from the builder. We have received an estimate for this to be included into our models which currently seems to work within our budget. More information on these new developments will be posted as it comes in. We still expect to be ready for the builder by the end of this year, but actual production will depend on the schedule of the builder once the complete information regarding the trucks is delivered to them.
We realize this has been a long time coming, but being that this is our first project, it is important to make sure all of our ducks are in a row – with the builder and with customer expectations. With the situation in Korea being what it is, it is important that we make no mistakes with what is presented, as this may dictate whether or not the Koreans will appreciate us as a preferred importer. Once this first project is complete, things should be much easier the next go around – especially since the information on the trucks can be used on our next project.
Please feel free to email if you have questions or concerns.
5/6/14 – Talk about timing!! We are preparing the last of the preliminary information to present to the builder, which, incidentally, will be this week – actually today!!! This information, if sufficient, should get us the finalized pricing. If all goes well and everything is in agreement, we should be talking about production starting shortly thereafter. 
Surprisingly, as we were embroiled in organizing this information, we received an email regarding Norfolk Southern SD45-2s. With this reservation, I have re-instated the original page for the Norfolk Southern, as these 3 units are ex-EL/ex-CR and basically just need plates over the classification lights and a black and white paint job. I can not add any other road numbers, as the time for researching new road numbers has passed.
This will be the final instance where adding road names and locomotive types can be done, as after this day, the road names and road numbers are final and can not be added to. We will only be able to take additional reservations for what is already listed on this site after this day.
There are still two individuals that we have not been able to contact to confirm reservations. If anyone has not confirmed reservations and is still interested in receiving some of these models, please contact us as soon as possible to be sure your reservation is secure. The time is finally growing near and for those who can not be reached for confirmation we will have no choice but to presume you have lost interest and cancel those reservations. Thanks to everyone for their patience with this, our first endeavor. 
3/18/14 – We have just returned from the March Meet and would like to thank all those who stopped by to say hello and chat about the more recent happenings on our project. 
We also had some reservation holders mention that they had not received the recent email regarding our request for updating information. We will resend to those few who have not responded in the event that the email did not go through. If you have not received this email within the next week and have models reserved with us, please email us and let us know. If we receive no response to our email and the reservation holder has not confirmed this information already, the reservation will be considered forfeit. We are making these models to reservation only and do not anticipate any production overrun.
Once we get caught up this week after winding down from the March Meet, we will be working on getting with our builder to begin the production process. It is currently our intention to have a pilot model, or at least pilot model components/assemblies, by the Indianapolis meet in September, subject to the builder's scheduling contingencies. We will have more information regarding a pilot model as the year progresses.    
2/13/14 – Just a quick note to everyone interested in this project. As I believe you all know, we have been working directly with EMD to get the necessary drawings that will allow for the detail fidelity that we have been promising all along. It has been a very long and slow process, as the gentlemen we have been dealing with have real locomotives to design and build and other responsibilities and obligations to consider before our needs at MMW. That being said, we have now procured the last of the major detail drawings that were requisite to deliver the models we will be producing to the level of intricacy we have promised. In fact, we may be delivering a more detailed model than originally advertised. We also want to send out our genuine gratitude to the gents at EMD for the exceptional information and assistance they have extended us. The quality of models that are to come will be largely due to the information that they have provided.
We will be having more updates regarding the progression to the next stage of this project soon.
1/29/14 – Road numbers for every road and locomotive type have now been posted. We urge anyone who has not chosen road numbers to do so soon. 
We have also sent emails out to everyone who has reserved models with us via email to confirm reservations and contact information. The process went a little more quickly than the two weeks originally expected. Many have already responded and some have even added to their reservation. Only those who have corresponded through postal mail, or other means, remain. If you have NOT received this email from us and you have reserved models with us via email, please contact us as soon as possible to confirm that you do indeed have a reservation with us and the particulars of said reservation. We endeavor to keep the best records possible and try to keep everyone abreast of the happenings of this project, but ultimately, anyone not confirming their reservation may be considered as forfeiting said reservation. Please check your inbox for our email and let us know soon to prevent lost reservations.
Thanks once again for your cooperation and continued support!! 
1/26/14 – It has been a bit longer than expected, but we are finally contacting reservation holders to confirm reservations and contact information. Additional information will be contained in these emails. Each reservation holder is being contacted individually, so please be patient. We are contacting people in the chronological order they have reserved with us. Please feel free to email with information or with questions. If you have not received this email within the next two weeks and you have placed a reservation, please contact us immediately in the event your reservation may have somehow not been recorded.
We will be attending the O Scale March Meet in Chicago this year. We will have further project information at the show. Please make arrangements to come and support the show and take an opportunity to speak with us in person. Hope to see you there.
10/30/13 – We have been getting some emails from folks expressing concerns about the idea of having our drive made here in the states while the bodies are produced in Korea. Apparently the worry is that having the two components made in different parts of the world will result in a shell that is not compatible with our drive. I would like to dispel that notion by letting everyone know that, we too, had considered this issue and had planned from the outset for there to be a frame of each length with a "mock" drive installed, provided for the builder to ensure the proper clearances. The drive components will only be machined on the outside with no internal machining nor any internal components in an attempt to keep our drive system proprietary. 
All attempts to procure the final pieces of information that the builder keeps requesting are being made. Things are getting closer and we hope to have an update posted regarding the next phase very soon. Once this update is posted, we will be contacting reservation holders with finalized pricing and requests for the first installment will be sent out. We will be emailing reservation holders in the upcoming weeks for more detailed contact information, or for those who have sent contact information, to update and confirm what we have for them. Please feel free to send us a mailing address, shipping address and a current phone number and email address to save time.
Anyone with questions should email us. We try to answer email within 24 hours.
7/4/13 – I would like to take a quick moment to wish everyone a happy and safe July 4th. 
Also, while attending the O Scale National show, we received another special request from an individual who is willing to reserve the necessary models to make Conrail a possibility once again. This can be made possible only due to the fact that the requested locomotives are former units of road names already on our production list. The time for adding road names is rapidly coming to an end, so any further special requests need to be made quite soon. We will be researching the Conrail models this individual has requested (SD45 and SD45-2) and try to get the offerings onto the website as soon as possible. We encourage anyone with questions regarding these models to email us. As always, we will try to answer within 24 hours. 
We are planning to be at the Indianapolis meet in September, so please come out to the show and say hello. Check out our demonstrations and our new operational gyralight headlight. We look forward to talking with you and hearing your suggestions.
6/11/13 – MMW will be attending the O Scale National meet beginning June 25. It is not likely we will be able to be present for the final day of the show, but we hope to see and speak with our reservation holders about the project on the days we are there. We will have actual EMD drawings of the locomotives we will be producing on hand for discussion as well as the usual lighting and drive display. FULL demonstrations for lighting and drive systems will also be possible for those who have not already seen them in action. Hope to see you there!!
4/25/13 – An individual has contacted us and made a special request: Due to the fact that we are already going to be producing the locomotive series for each of these locomotives as they were originally built, we are adding three Susquehanna SD40T-2s to the list of locomotives to be produced. This individual has reserved the required quantity so they can be produced and painted. They are also available to anyone else wishing to reserve. Please check the models page if you have interest in these models.
4/8/13 – As we are nearing the end of the information gathering process and with the quantity of reservations now sufficient enough to warrant other possibilities, yet another option for the SD45 project is now being considered for proposal to the serious collector/connoisseur. We are contemplating the possibility of a production run within the main production run of SD45s (and other models listed for this project) by offering a very limited version of each model type with opening doors along the long hood with a mock engine/generator inside and positioned around the drive system. The typical reaction to this specific detail is that most modelers would say that it is problematic and it would be better to glue the doors shut and not have them open at all. We are proposing to have some type of latching to keep the doors closed unless the modeler wishes to leave some or all doors open. This would add a considerable amount to these models with regard to price, but the realism added for display or modeling purposes would be significant. We may only make some 15 – 25 models total with this feature available which should make for a very prolific collectors' item. 
We would appreciate some feedback regarding this feature. If we receive enough positive feedback, we will look into making this version come to fruition by speaking to the builder.  We will include this as an alternative to our standard model in the future if the interest is sufficient enough to warrant the continuation of this option. As we have not yet begun construction of the models, this will not have any effect on the timeframe for delivery of the rest of the SD45 project. 
Please email us with your interest, questions or concerns. With regard to the per piece price of models with this feature, everything will depend on the level of interest by our reservation holders. We will discuss possible pricing to those who have serious enough interest to email us with inquiries.
3/25/13 – With the 2013 March Meet now behind us, I would first like to say how much I enjoyed speaking, in person, with those of you that attended the show and are supporting our efforts, that stopped by our booth to say hello, and see what is new with MMW. 
We have nearly completed choosing road numbers for the locomotives to be produced. There are a few SD45 photographs we are still looking for from the GN and we are currently working on organizing the pictures to be posted for SP, which should be posted in a week or two. We are still working out the details for the road numbers on the tunnel motors – both SD45T-2 and SD40T-2 – because they are so varied in body and lighting packages through the different eras.  We encourage everyone with reservations to check the respective pages and email us with their choice of road numbers. We will randomly choose numbers for individuals who do not contact us with this information just prior to production.
Although the current project does not include any locomotives with an actual gyralight type headlight, we will be posting some pictures and video clips of the prototype unit soon, which actually functions like a real one. The headlight reflectors are turned in an orbital type motion to create this effect just as is the prototype. Those of you who saw the unit at the March Meet will no doubt be interested in seeing it in operation.
We are still taking in some reservations, but the time will shortly be drawing to a close. Certain models may gradually become unavailable. Anyone still interested who has not reserved should contact us soon. Please, if there are any questions, by all means ask. We try to reply within 24 hours.
2/7/13 – Just a heads up to everyone with reservations and also to those who are considering reserving models from our SD45 project. We will be putting up photos of the road numbers to be produced under each road name and each locomotive type under the models tab on the home page. In most cases we have tried to accommodate those who have inquired about specific road numbers, but as of this time, any further reservations would have to be selected from the road numbers denoted on each page. Pages will be updated to show the road numbers, starting with the straight SD45s, over the next few weeks as the remaining information becomes available. The related types will follow once the SD45 pages are complete. This will take some time to accomplish, so just because the page has not been updated yet, does not indicate the road numbers for that road and locomotive type have not already been selected. Any page so updated will specify the selections at the top of the page prior to the photos of the prototypes chosen. AT&SF, SP and N&W will be some of the last to be updated due to the complexity of the information, locomotive variation through multiple eras, multiple locomotive types and multiple paint schemes depending on the road. C&NW has already been updated and more will follow in the next few days. Please feel free to email with any questions or comments. We always like to hear from everyone.
1/3/13 – Happy New Year everyone!!
I wanted to provide an update for those of you who have reserved models through this project offering.  We know you are curious as to the status of the project and want to reassure you that the project is progressing forward, albeit a little slower than anticipated.  We are still gathering information for some of the locomotives. We had hoped to have this aspect of the project completed by now, however, due to the extensive list of locomotives offered, the research has taken a bit longer.  Many of these locomotives were listed with the SD45 because they are very similar and can be run with the SD45s. These locomotives would never have sufficient quantities on their own to have produced a run by themselves, so we added them to the SD45 project knowing full well there were many of you who would love to see them done in fine scale brass (Myself, for one). Please be patient, as we know each and every customer with a reservation is expecting the most accurate model of that locomotive ever produced in any scale.  I would rather build these and have them take a bit longer (but built correctly), than hurry them and have unhappy customers. We will be posting the locomotive road numbers that we intend to produce very soon, so check back frequently for that information.
9/26/12 – Upon returning from the O Scale show in Indy, I have read a few emails asking about the SD38, SD38-2 and SD39. There would appear to be enough interest in these models to incorporate them into our SD40 and SD40-2 project being that they are largely the same. Certainly more alike than the models in our first project. If anyone has any interest in these models, or would like to reserve one (some), please email with questions and/or reservations. We will soon be adding pictures of these locomotives to the website.
7/29/12 – I would like to take a moment to thank George Kohs for the support he has given us going into this project. He has mentioned Midwestern Model Works on his site more than once and has a link to us on his site as well. I would also like to credit him for recognizing the importance of all importers to put aside the petty "competitor" issues and cooperate to put the hobby and the O Scale collector first. As importers, it is our responsibility to make every effort to preserve and prolong the hobby for those of you who are supporting our endeavors to do so. I, and hopefully other importers, will learn something from George's actions here and follow suit.
7/25/12 – We have just returned from the O Scale National meet in New Jersey and would like to thank those of you for coming to our booth to say hello and chat with us about the project. We are currently discussing the final details with a few Korean builders, but before making a decision on which one will be building our project we are taking steps to make sure we are going to get the best possible match (builder to model produced) that we can to be sure our models are at or better than what we have promised in terms of quality. Since the reservation process is going to be coming to a close soon, this decision will also be made soon. New info regarding this subject will be posted in future updates as it becomes available.
We also have news about our next project. Please visit our "Future Projects" page for more information.
In terms of cutting off reservations, we will be accepting new reservations for the next four weeks. After that time, we will be limited to what can be reserved. Once the information for the reserved models has been compiled for the general outline drawings (G.O.D.s) for the builder, we will only be able to take reservations on locomotive types that have prior reservations. There will not be sufficient time to go back and round up information for unchosen types at that time so we urge anyone who may be "on the fence" about reserving to make a decision soon, as we don't want to have to disappoint individuals who didn't reserve in time.
6/8/12 – As many of you are already aware, we are postponing the F45s, FP45s, and SDP40Fs due to lack of reservations until such time as we get ample requests for them in the future or decide to completely cancel them altogether. 
We have sufficient reservations to proceed for all of the other types offered, but we will not be cutting off reservations until sometime after the National Meet in July, as there are apparently many people who have yet to hear about this project judging by all of the recent reservations.
We also have sufficient reservations to cover most of the paint schemes except for a few. Many of you are also aware that the Koreans have a quota for the number of models required to produce a specific paint scheme. We only need one or two more of each of the following road names to ensure they will indeed be produced. These roads are PRR, Milw Rd, C&NW and GN. We have been overwhelmed by the reservations for the N&W, but one scheme (black with "NORFOLK and WESTERN" lettering) needs one or two as well. If anyone is interested, or knows someone who may be interested in any of these, please contact us with those reservations soon. We sincerely hope we do not have to let anyone down due to a lack of reservations on just a few such models.
We hope to be posting some newer pictures of the lighting system in operation soon, so stay tuned and a special thanks to all of you supporting this project.
4/11/12 – We will be attending the O Scale National meet in Parsippany, New Jersey in July of this year. For those of you who were unable to make it to the March Meet in Chicago, we hope you will be able to come and see us in July. 
We want to thank those of you who have participated in our "voting" for future projects. This will facilitate our choosing models that you want to see produced in the future. For those of you who have not emailed us with your suggestions, please help us to produce the model you want, voice your opinion by dropping us an email soon.
3/23/12 – We would first like to say that it was great to meet many of you at the O Scale March Meet. Our thanks goes out to those of you who are supporting us in our endeavor. 
Reservations continue to come in and we certainly hope to reach our builder's quota within the next two months. Please check back here for further information on this matter or email us with any questions.
We have also added a page for "Future Projects". If you have not already visited the page, please check it out and email us with your input. We will make every attempt to produce what our customers are asking for, but need to hear from you to facilitate the process.
2/16/12 –  We will be in attendance at the O Scale March Meet in the Chicago area next month. For those interested, please come out to the March Meet and check out our booth, we'd like to hear from you. We will be displaying many of the details and components that will be incorporated into the SD45 project. The drive and lighting systems will be demonstrated right at our tables. Any questions you may have about the SD45 project can be asked and answered. Hope to see you there!!
2/14/12 – We have just returned from the O Scale West show and would like to thank those supporting us in our endeavor. Many folks had questions regarding the lighting and drive systems. The lighting system will soon be made available separately for use on existing models. The drive system is already available as a conversion for existing models. Please email with specific questions. 
We would also be interested in knowing what other diesels people would like to see modeled. We have had several inquiries regarding SD7s and SD9s, SD40-2s, GP38s and GP40s, and F units with the available features we are offering. We will make every attempt to satisfy the wishes of our customers, but we need to hear from you if we are to be able to fulfill wish lists. As with the SD45 project, we will require sufficient reservations to produce any given model. If any of the above models are of interest, please email us so we may be able to start contemplating our next project once the SD45s go into production. Other suggestions are also welcome.
1/25/12 –  We will be attending the O Scale West show in Santa Clara, CA next month (Feb. 9 – 11). For those of you interested in seeing some of the things our SD45 project will have to offer, we will be displaying and demonstrating the drive and lighting systems. We will also be answering the questions that many of you may have about the project and displaying some of the detail components that will be seen on the models.
We will soon be posting more info and pictures of the auxiliary lighting in the "lighting" section and some of the detail components to be used on the SD45s in the 'locomotive details" section, so please keep checking back.
1/8/12  –  We are gradually getting the loose ends tied up on the website. Most of the locomotives and paint schemes offered are shown in example by clicking on the "Models" button on the menu bar and selecting the locomotive type and road name of your choice. The remaining missing photos should follow shortly. A special thanks goes out to the people credited on the photos for allowing us to use these shots.
We have had a flurry of reservations due to a forum on O Gauge Railroads on-line. I would like to formally thank the individual who discovered us, for being resourceful enough to locate our site and start people talking about it prior to any announcement on our part. It has certainly given us a jump start on this project.
12/30/11 – We are presently gathering pictures and information for the production of this SD45 project. We will be posting more pictures of the different paint schemes as they become available. There will be more information and pictures posted regarding the lighting system, drive system, locomotive details and operational fans in the coming weeks. We will try to post some video clips demonstrating the lighting operations and possibly the drive. Please check back frequently as we are working tirelessly to get this all put together. We're always available by email for answering questions. Stay tuned!!!