The 'Future Projects' page is a list of possible projects that may be produced in the future. Locomotives are listed first and rolling stock appears below if you scroll down. This page simply shows listings of the more popular requests (votes) of the models people would like to see produced. It needs to be strictly understood that these projects are not being officially announced for production, but are definitely in consideration for the future due to the fact that they have all been requested by multiple people. As more 'votes' come in and as projects get closer to the possibility of production, they will be listed closer and closer to the top of the list. Official announcement of a project will appear on the "General News' page and also on the home page.
LOCOMOTIVE PROJECTS
Locomotives on this list have a minimum of 10 people wanting one or more locomotives of a certain type. As other locomotives receive more 'votes' and reach 10+ requests, they will be applied to this list for future consideration. Stay tuned to this page and the "General News" page for updates and information. Please tell friends and fellow O Scalers to visit this page and give us their suggestions. This is the only way we will know what O Scalers want to see produced.
As of 9/26/19 these are the most popular locomotives requested and they are in order of most requests received. If you have not emailed with a request and would like to see a certain type move up the list, email us your 'vote' today.
Please do not register a request if you are not serious about placing a reservation when the time comes. This effort is an attempt to gauge 'real' interest in these projects so that we can make an accurate evaluation of serious intent. This method will assist in getting projects accurately queued on the list below and hopefully get them to production more quickly due to the fact we won't have to guess what model to place into production. This makes researching easier and also facilitates communication with prototype manufacturers when procuring information. If taken seriously, this will cut time between projects considerably.                                                                                   
1) – DDA40X (see note **** below)
2) – GP7 & GP9
3) – NS Heritage Fleet (see note ** below)
4) – SD7, SD9, SD18, SD24 & SD26
5) – C44-9W & AC4400 (possibly with C40-8 and C40-8W)
6) – GP38 & GP40
7) – F Units
8) – SD70, SD70M & SD70MAC
9) – RS1, 2 & 3 
There are other types that have been suggested, but we'll need more requests to add them to this list. If we continue to get requests for any of these units, it will certainly help toward ensuring they will be produced in the future. So if there is interest, please drop us an email and let us know.
** The NS Heritage units would be produced over a number of years so that they may be affordable for those who would like to have them all. The number NS 1030, which is seen on the turntable in the famous roundhouse photo below, will also be made available for a total of 21 units.
Click photo to enlarge.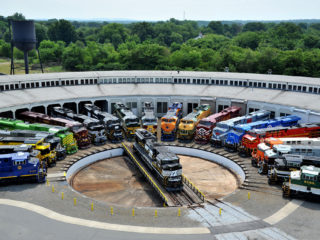 The NS Heritage units are GE's ES44AC and EMD's SD70Ace type locomotives. These locomotives were also produced for other railroads and will be made available during the course of the releases of NS Heritage models. Email for further details and information or to express interest in this project. 
**** The DDA40X will ONLY be produced in a limited quantity of 50 models. This will also ONLY be available in the premium version due to the low quantity. The model will likely be priced at around $6,000 per unit, but it will be fully detailed inside and out as the premium version of the SD40-2 project is to be. Several of these have already been spoken for on a preliminary basis. Several people who have expressed interest have asked about the possibility of getting a Union Pacific SD40-2 in the 8000 series to run with a pair of DD40s as they were most often seen together in the prototype as in the photos below.
Click photos to enlarge.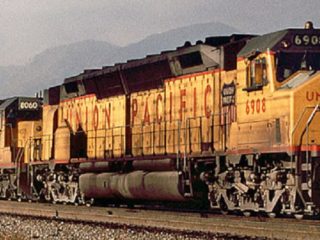 These same people have requested two DD40s if they are able to get a premium SD40-2 from the current project. There will be Union Pacific 8000 series SD40-2s available for reservation on the SD40-2 project in the event others would like to own a fully prototypical set. Please email with interest or questions. 
ROLLING STOCK PROJECTS
Again, please do not register a request if you are not serious about placing a reservation when the time comes.
1) – NSC Lumber car
Some early suggestions (just for example) that need more input before being added to the list are:
Trinity 100 ton 2 bay cement hopper
Gunderson well cars
Auto racks
NSC bulkhead flat
Trinity 6351 or similar 4 bay covered hopper
Gunderson 7550 or similar (NSC) 60' DD high cube boxcar
Trincool Reefers
As these, or other suggestions, reach a minimum of 25 requests or more, they will be given a number and prioritized on the list with the lumber car above.